Dear Education Leaders,
This free Administrator's Desk newsletter is published weekly by Education World®, the largest free, independent resource on the Web for educators. If you enjoy this newsletter, please feel free to forward it to others. If this newsletter has been forwarded to you, you may sign up to receive it at http://www.educationworld.com/maillist.shtml.
To unsubscribe, see instructions at the bottom of this email.
Education World remains a free resource thanks to the support of our advertisers -- so please click on ads of interest and visit our advertisers' sites.
Thank you.
---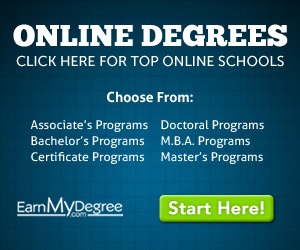 This week's newsletter is sponsored by EarnMyDegree.
At EarnMyDegree.com, our goal is to match your personal and professional goals with an  education program that fits your unique needs.
Whether you want to search by subject, level, or school for an online Degree, or you wish to study at a nearby college campus, you've found the right place! We feature hundreds of degree programs across numerous schools and all of our affiliate schools, both online and traditional campus-based, are accredited and nationally recognized.
Most of our degrees are designed for working professionals so you can continue working while you attend school. While we cannot guarantee financial aid, we do provide informative resources to prospective students who need help paying for school. Associates at our extensive network of top accredited schools can also provide more information about loans, scholarships, or federal aid. Click here to learn more.
---
Volume 9, Issue 23
June 28, 2011
---
Featured
Administrators: What Worked Best This Year?
With 2010-2011 fresh in our minds and 2011-2012 edging ever closer, EducationWorld asked several school administrators about their most successful strategies during the past year.
Unbelievable School Decisions: Child Stranded in Tree
Because of this school's policy of non-interference, a boy was left alone, 20 feet in the air. It wasn't until a passerby noticed the child in the tree that he was helped down.
Making Class Lists Needn't Be a Nightmare
Creating class lists is never an easy job and is sometimes a nightmare. Putting together class lists requires great thought—and greater organization.
Parent Pointers for Summer
Try these tips for summer safety and learning in a parent newsletter or on your school's Web site.
Scavenger Hunt: A Fun Way to Introduce Staff
Staff scavenger hunts are a fun way to kick off the year and help new and returning faculty members get better acquainted.
Great Starts: Veteran Principals Offer Opening-Day Tips
Use these ideas to make the first day of the new school year a smooth one for kids, parents, teachers and you.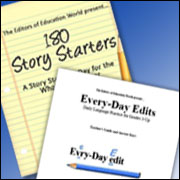 NEW!
Education World Store
Now you can download two of Education World's most popular features to your own computer!
Story Starters. 180 story starters -- one for each day of the school year -- to engage student writers.
Every-Day Edits. Provide daily test practice with more than 200 printable editing activities.
More practical products to come in the months ahead!
Click here to learn more or shop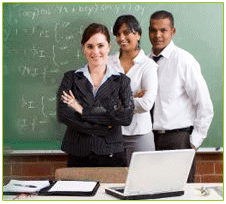 Coming Soon!
Education World's
Educator Community
Connect with other educators who share your interests.
Share ideas, lessons, worksheets, and more.
Read educator blogs, or start a blog of your own.
Join a group, or start a group of your own.
Watch this space for more information about special incentives and giveaways for being among the first to join the Community.
---
Education World now incorporates www.SchoolNotes.com ~ "everybody on the same page!" The leading school-to-home communications platform, with FREE pages for teachers and automatic notification of parents and students when new homework is posted!
For a modest $24.95 PER YEAR, upgrade to Personal Edition, "Super SchoolNotes," with thousands of resources linked to your state's standards.
Click here for more information.
---
SIGN UP FOR OUR OTHER NEWSLETTERS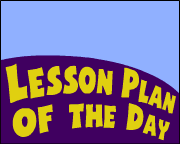 Did you know that Education World offers eight other FREE weekly newsletters?
Have you signed up to receive the...
Education World LESSON PLANNING NEWSLETTER?
The weekly Lesson Planning Newsletter offers links to all new lesson plan content posted to the Education World Web site in the previous week. You will find all our regular features there, as well as links to new tutorials, timely holiday lesson planning ideas, and great lesson plans from our archives.
Would you like to see a sample of the Lesson Planning Newsletter? If so, simply click the link below:
http://www.educationworld.com/newsletters_images/lp_sample.shtml
If you would like to subscribe to the Lesson Planning Newsletter, please click this link:
http://www.educationworld.com/maillist.shtml#lessons
If the Lesson Planning Newsletter is not of interest to you, do you know somebody else who might benefit from it? Perhaps you could pass this information along to that person.