This weekly newsletter is published by Education World® , the largest *free* resource on the Web for teachers and school administrators. Thank you for clicking on advertisements of interest.

Did you know that Education World posts new content five days a week? Bookmark our administrators' page and make sure you don't miss a thing!
---
This week's newsletter is sponsored by Jimmy's Green Challenge.
Teachers: Get ready for Earth Month 2012! Take part in a fun challenge that inspires kids (and adults!) to be more earth friendly.

Evidence shows that this young generation will have the greatest impact on the Earth's environment in the next 50 to 100 years. So, there's no better time for educators to teach children about going GREEN!

To get started, order our Teacher's Package and get 1 FREE Earth Day book. Hurry, this offer ends soon!

Click HERE to learn more
---
Volume 10, Issue 9
February 28, 2012
---
Featured
Making the Most of "Superstar" Teachers
School change expert Todd Whitaker offers advice on leveraging the strengths of the strongest teachers in your building.

Ask Dr. Lynch: Balancing District Budgets
EdWorld columnist Matthew Lynch examines the unique challenges associated with district budget shortfalls.

Ensuring Teacher Effectiveness
Are teachers challenged to examine assumptions about their work and rethink how it can be performed? Explore this and other key questions.

Site Review: Mentor Mob
The bookmarking site MentorMob allows educators to collect, collate and share information on specific subjects.

Attending a Conference: Have You Thought of Everything?
Our "Principal Files" team shares tips on getting ready for that big conference. Included: Ideas for getting the most out of the opportunity.

Finding and Supporting Substitute Teachers
Learn about best practices when it comes to effectively implementing substitute teachers in your building.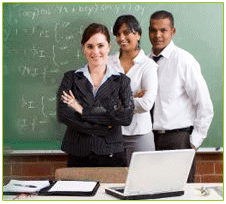 Explore the Education World Community
The new Education World Community, a FREE professional network for educators, offers teachers and administrators the opportunity to meaningfully interact with others in the field. If you haven't already, be sure to check out this powerful resource.
In addition to featuring timely discussion groups, the Community platform allows educators to upload lesson plans, worksheets and other tools. The Positive Behavioral Interventions and Supports (PBIS) group provides opportunities to learn from others who are using this powerful prevention and intervention framework in their schools. Join today!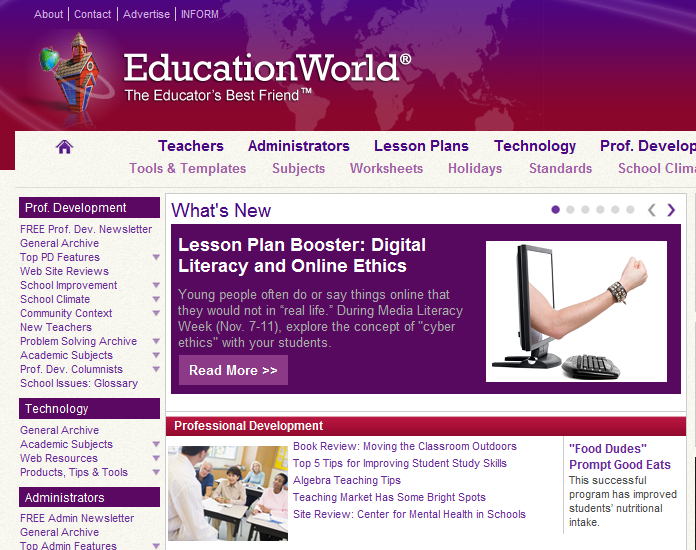 Bookmark our home page, EducationWorld.com, and come back often to find new content posted daily.
Education World offers you ideas you can use today. With a vast library of materials just a click away, what's not to love?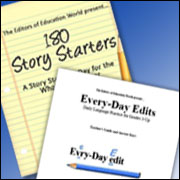 NEW!
Education World Store
Now you can download two of Education World's most popular features to your own computer!
Story Starters. 180 story starters -- one for each day of the school year -- to engage student writers.
Every-Day Edits. Provide daily test practice with more than 200 printable editing activities.
More practical products to come in the months ahead!
Click here to learn more or shop
---
School-To-Home Communication
As a creative teacher, you know how important the home-school connection can be. You have probably heard of SchoolNotes, the original school-to-home communications platform (owned by Education World).
Now, New.SchoolNotes.com is the FREE platform that can help keep you, your students, and their parents "on the same page."
You can post homework, create and share flashcards, keep a calendar of upcoming events, and upload documents, images, and favorite URLs all to YOUR page! Students and parents can automatically receive notification when you update your SchoolNotes page.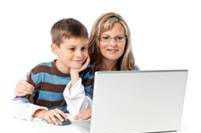 Go to http://new.schoolnotes.com and give this FREE service a "test drive." Make a commitment to improving communication with parents and students this school year.
---
SIGN UP FOR OUR OTHER NEWSLETTERS
Did you know that Education World offers eight other FREE weekly newsletters?
For example, the weekly Lesson Planning Newsletter offers links to all new lesson plan content posted that week.