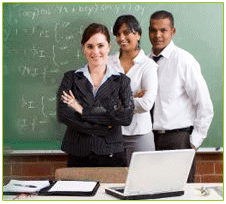 Greetings!

We know you are familiar with Education World's many timely lesson plans and resources to help you engage and teach your students. And we've already introduced you to the new Education World Community, a professional network for educators where like-minded teachers, administrators and others can collaborate and learn. (Have you joined yet? If you haven't already, take this opportunity to sign up for free and join in the fun!


But have you seen the Education World Community's Innovative Teaching group? If you haven't, it's a worth checking out. The group was started by Steve Haberlin, a teacher who engages his students in fun and interesting ways (like having a trampoline in the classroom!). He uses these methods to draw students in and get them excited about class. And guess what? It works.
Here's an excerpt from his recently posted group discussion "Personalize!":
"Let me offer one way I accomplish this. My class plays a game called SWAT. Two students stand in the front of the room holding plastic fly swatters. Depending on the subject, I project words on to the white board, and the student who is first to cover the correct word with the swatter wins and stays up to face the next contestant. For instance, when reviewing vocabulary, I will project the word list and call the definition, and the students must search the board and cover that word."
Steve is sharing his great ideas in the group discussions in the Innovative Teaching group. Pop over and check out some of the recent discussions on using music, humor and more. He's also happy to answer questions or brainstorm with you on ways to bring a little innovation to your classroom too.
Come
join today
.